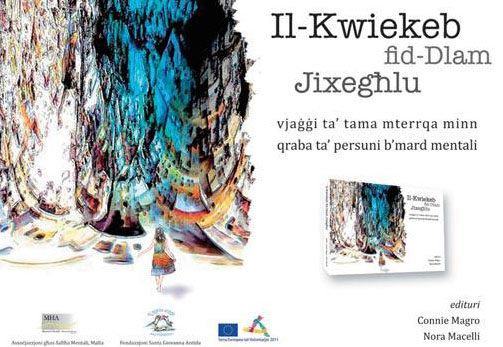 Il-Kwiekeb fid-Dlam Jixegħlu
Stars Shine Brightly in The Dark
Two local NGOs working in the field of mental health, namely, the Mental Health Association Malta and the St Jeanne Antide Foundation, have together published a book specifically for the relatives of persons with mental health problems. The book is also useful to professionals working with the mentally ill and to those who are thinking of pursuing a career in working with families. The book's title is " Il-Kwiekeb fid-Dlam, Jixegħlu – vjaġġi ta' tama mterrqa minn qraba ta' persuni b'mard mentali". 25 volunteers were involved in the production of the book as part of the organisations' activities for the "European Year of Volunteering 2011."
Two local NGOs working in the field of mental health, namely, the Mental Health Association Malta and the St Jeanne Antide Foundation, have together published a book specifically for the relatives of persons with mental health problems. The book is also useful to professionals working with the mentally ill and to those who are thinking of pursuing a career in working with families. The book's title is " Il-Kwiekeb fid-Dlam, Jixegħlu – vjaġġi ta' tama mterrqa minn qraba ta' persuni b'mard mentali". 25 volunteers were involved in the production of the book as part of the organisations' activities for the "European Year of Volunteering 2011."
Il-Kwiekeb fid-Dlam Jixegħlu is a source of hope to those relatives who feel stressed with the responsibilty of taking care of a person with mental health problems. Fourteen of the nineteen chapters of the book are written by family members who have been taking care of a mentally ill family member for a long time. These family caregivers have decided to help others by sharing their personal experiences with the general public to combat the fear and stigma associated with mental ill health and to support other cargivers like themselves.
The book provides information relevant to certain situations encountered in various mental health illness, for example Depression, OCD, Bipolar disorder, Schizophrenia, Psychosis and Paranoia.
The preface is written by the co-founder of the Mental Health Association (MHA), Ms Connie Magro and a closing synthesis by the CEO of the St Jeanne Antide Foundation, Nora Macelli. In her message, the Honorary President of the MHA, Ms Catherine Gonzi, who is also a co-founder of the MHA, explains that "the value of this book is in the personal experiences themselves. Mental well-being and mental health problems are unique experiences for each family which make this book invaluable to other families. Through others' experiences one can learn coping skills and problem-solving skills. In spite of the prevailing difficulties, one's attitude can also adapt in a positive manner for the benefit of the person with mental health problems."
Several chapters are written specifically for teaching purposes and aim to assist the teaching and other professions. An explanation on the rights of the family caregivers is also included. The last chapter provides an analysis of the common issues identified in the experiences of all 14 participants.
This book is primarily aimed for the use of carers but it is also a useful tool for professionals who work closely with people in difficult situations. It is also recommended to students, teachers, the clergy and all those persons who have at heart family values.
The book presentation is very clear, with related illustrations for each chapter and an important message that the participants want to convey to the readers. The illustrations reflect the intense emotional feelings of these family members, whilst the title of each chapter is extracted from the writers' own words. At present, the necessary arrangements are underway to translate and publish the book in English.
View e-book
This project has been sponsored by the Good Cause Fund and Voices Beneficiary Fund.
For more information, you are kindly asked to contact the Association on: assistance@mhamalta.comor SMS on 79800080 . One can obtain a copy from St Jeanne Antide Foundation, 51 Tarxien Road, Tarxien (Tel. 21809011) and Agenda Bookshops.